The Taurox Prime is a remarkable vehicle that incorporates advanced technologies exclusive to the Astra Militarum's Tempestus Scions, providing unparalleled capabilities in the most hazardous war zones. With enhanced firepower compared to the standard Taurox, it serves a vital tactical support role, perfectly suited for the specialized missions undertaken by its operators.
This multipart plastic kit allows you to assemble one Taurox Prime, a high-speed transport armed with a diverse range of potent weaponry. The Taurox Prime offers various options for turret-mounted heavy weapons, including a battle cannon, gatling cannon, or missile launcher, along with autocannons or hot-shot volley guns mounted on the hull's sides. Additionally, a pintle-mounted storm bolter can further augment its armament.
Taurox Prime Datasheets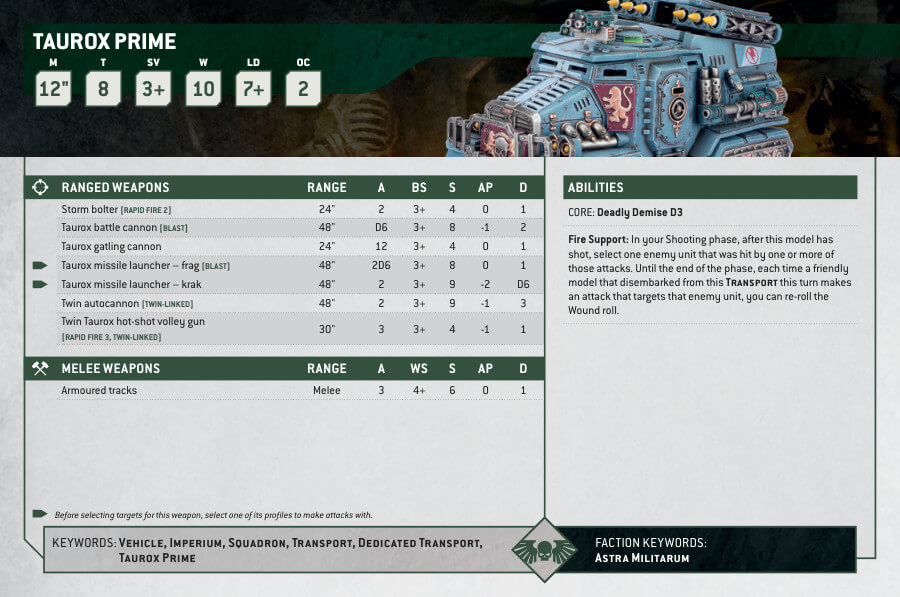 What's in the Taurox Prime box
x1 multi part plastic Taurox Prime kit: A fast-moving transport with a versatile range of powerful armaments.The tank features a fully-detailed interior complete with a driver, a hatch that can be built closed or open, a turret gunner with a helmeted or bare head who can be positioned at a height of your choice, and other accessories to customise your Taurox Prime – including decorative armour panels, an ornate grille-plate, and a stowed sledgehammer. This kit can alternatively be used to build a standard Taurox.
How to paint the Taurox Prime set